If you managed to book a ticket on a flight which isn't canceled, you still have several steps to achieve to be able to leave Shanghai.
I got most of this input from french consulate related people and wechat groups:
great call with a girl from the french consulate emergency line whom gave me lots of inputs
the rest came from several wechat groups specialized on this subject from the Jing'an French consulate 03 group, to other more specialized groups such as "Leaving Shanghai in April" which was the best wechat group (special thanks to Eric D., Matthieu & Julie JM for the invites).
Step 1: Agreement of the neighborhood community
In order to get the approval from the neighborhood community I called them at 9 am and explained to them that I needed to leave my compound on same day at 1pm to get tested (PCR) at Jiahui hospital at which I had an appointment at 1:30pm. And of course, that I'd need a second authorization to leave the next day at 3pm to catch my Air France flight to Paris.
The guy from the neighborhood community told me the transport were restricted to which I answered I already had the needed transport with the necessary permits.
Guy added me on wechat, to allow easy communication for the following steps (their phone number is often busy) and to allow me to upload the needed info:
a screenshot of my plane followed by the most important info as text format (Name, First name, nationality, flight number, departure time, and my phone number).
A screenshot of my appointment at jiahui hospital
A screenshot from my appointment with my driver to pick me to get me to jiahui hospital and back to the compound
He never made any written answer, every time he'd wechat call me to give his approval and let me know my compound security guards had been briefed to let me go and give me a pass when I'd leave to be able to come back.
Step 2: Obtaining the PCR
Why do you need a PCR test?
– regarding France at 48h of the departure if you are not vaccinated (or in my case 3 doses of Sinopharm which are not recognized by France as a full vaccination).
– regarding China at 48h of the departure + antigenic self-test of less than 24h to be able to pass from puxi to Pudong. A PCR from less than 24h without an antigenic self-test also works if you cannot get an authorization to leave your compound on 2 separate days but it then means you need to wait 4 to 6 hours at the hospital to get the results before going to the airport.
Your experience may vary based on your location and the time and day at which you leave. Some don't get checked on their way to the airport, some have checks at the puxi to Pudong bridge and another one before the airport, in my case I only had a checkpoint at puxi to Pudong lupu bridge and showing my antigenic self-test result was enough they didn't as for the PCR.
How and where to do the PCR test?
To do this, get the jiahui hospital mini program on wechat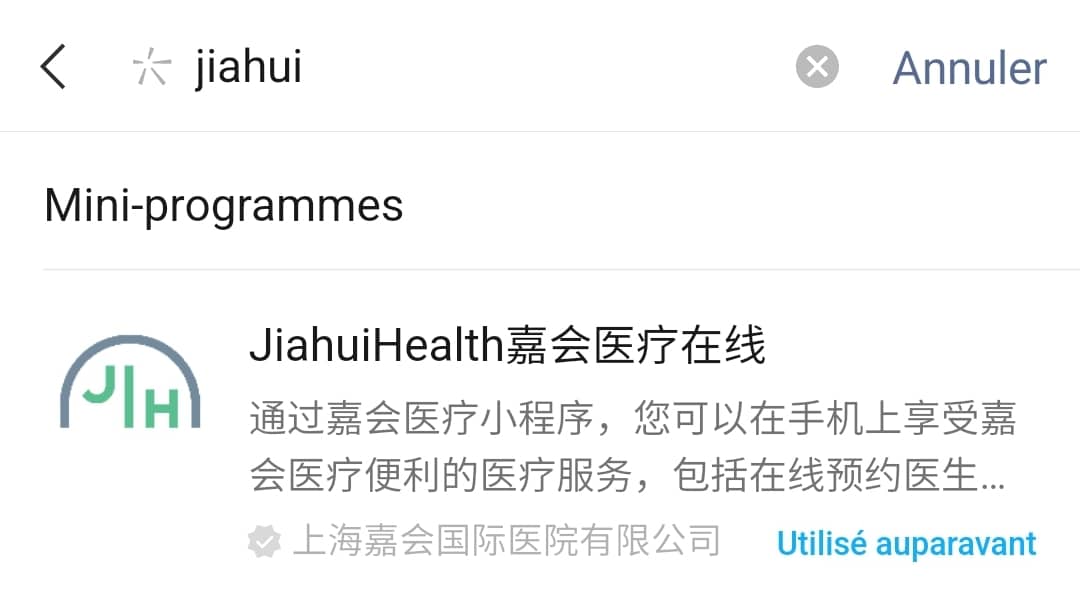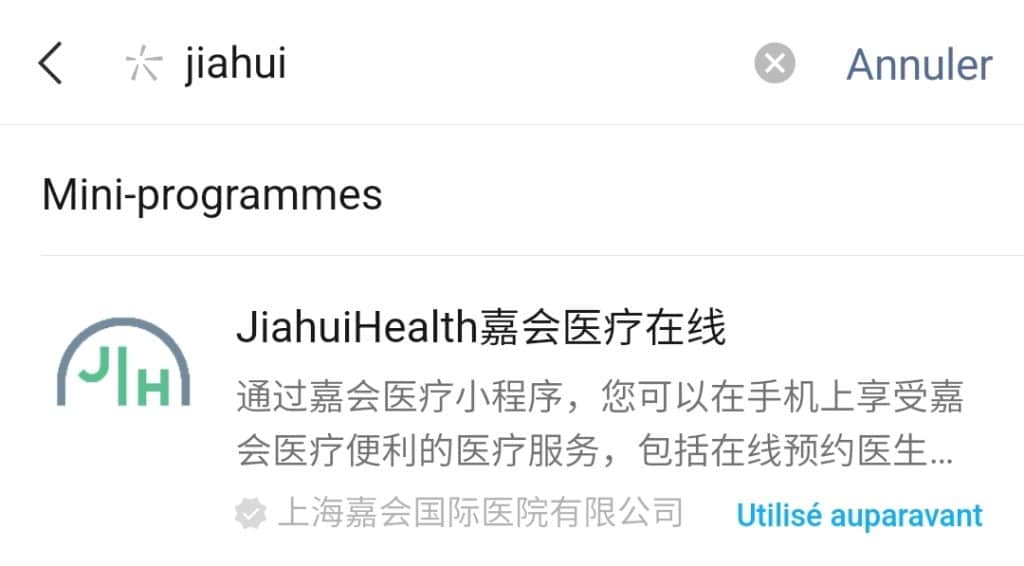 Book a PCR test at Jiahui hospital and pay it online 120 RMB through alipay or wechatpay. Fill in the beneficiary's information correctly or else it won't properly be listed in the city's QR Code application.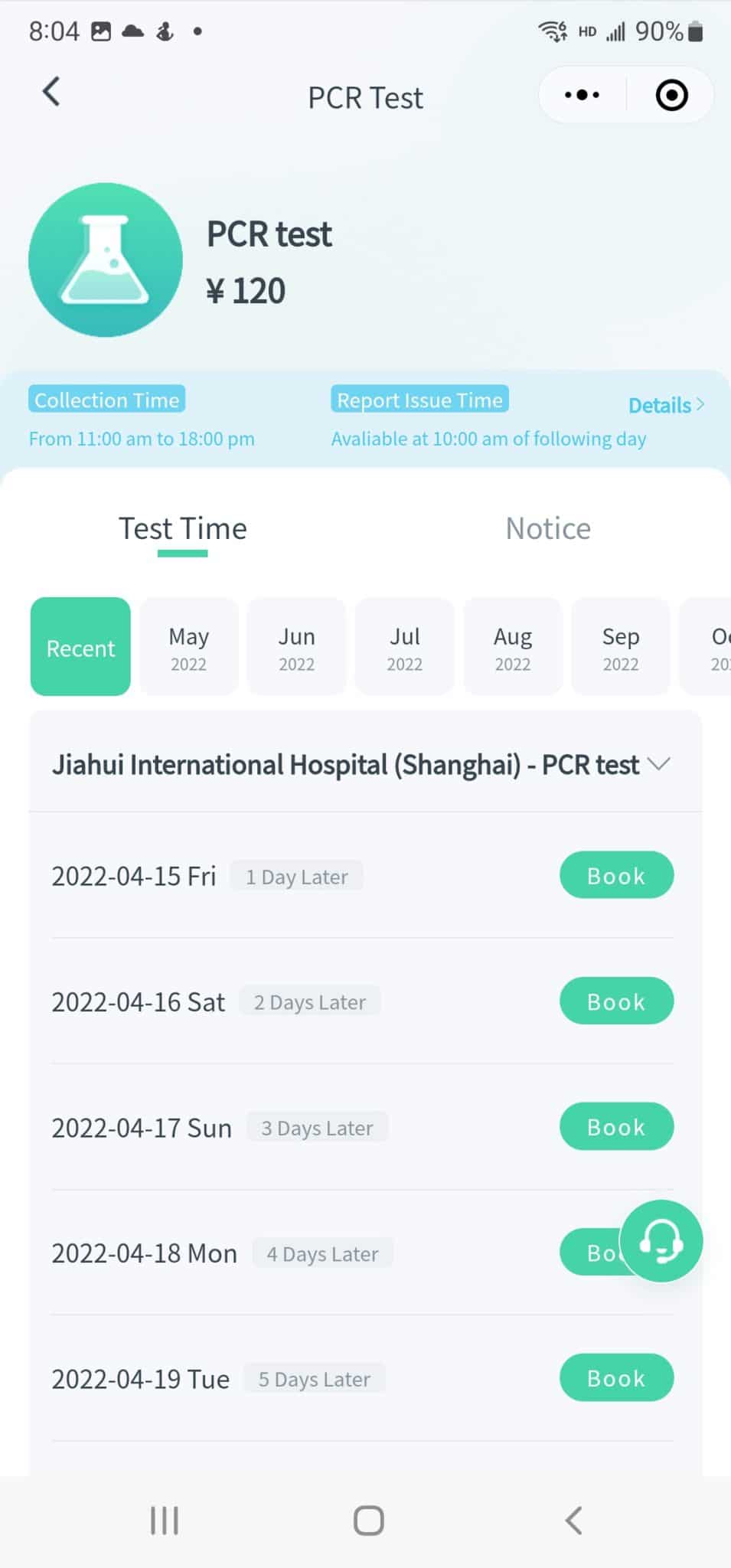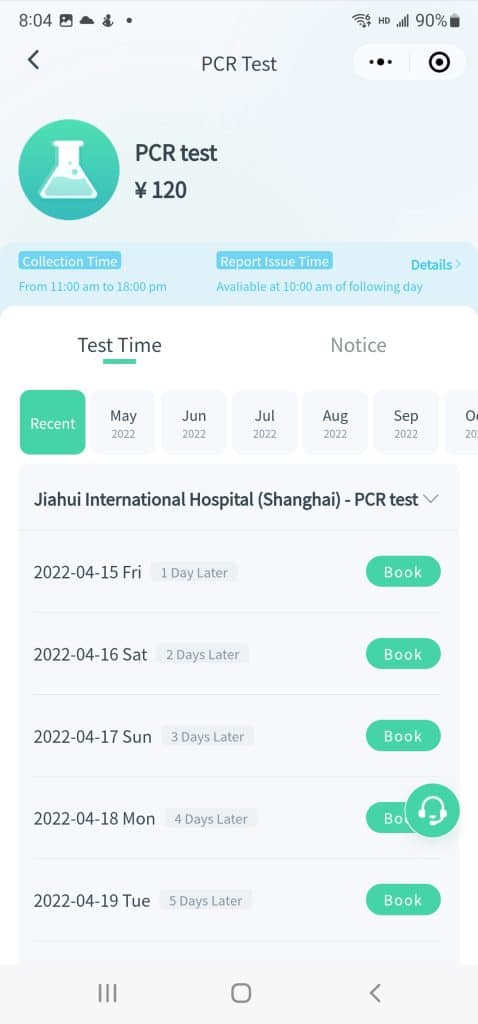 To go to the test I had booked a driver for 900 RMB after adding this number on wechat 15000902270
At 13:00 I confirm again on wechat with the neighborhood committee that the security guards of the compound were well warned that I will be leaving the compound and will come back when I'm done.
I get the confirmation, I arrive at the guards, they greet me, I tell them I'm building x apartment y and was allowed to leave/come back. They confirm and give me a pink paper from the neighborhood community allowing just that.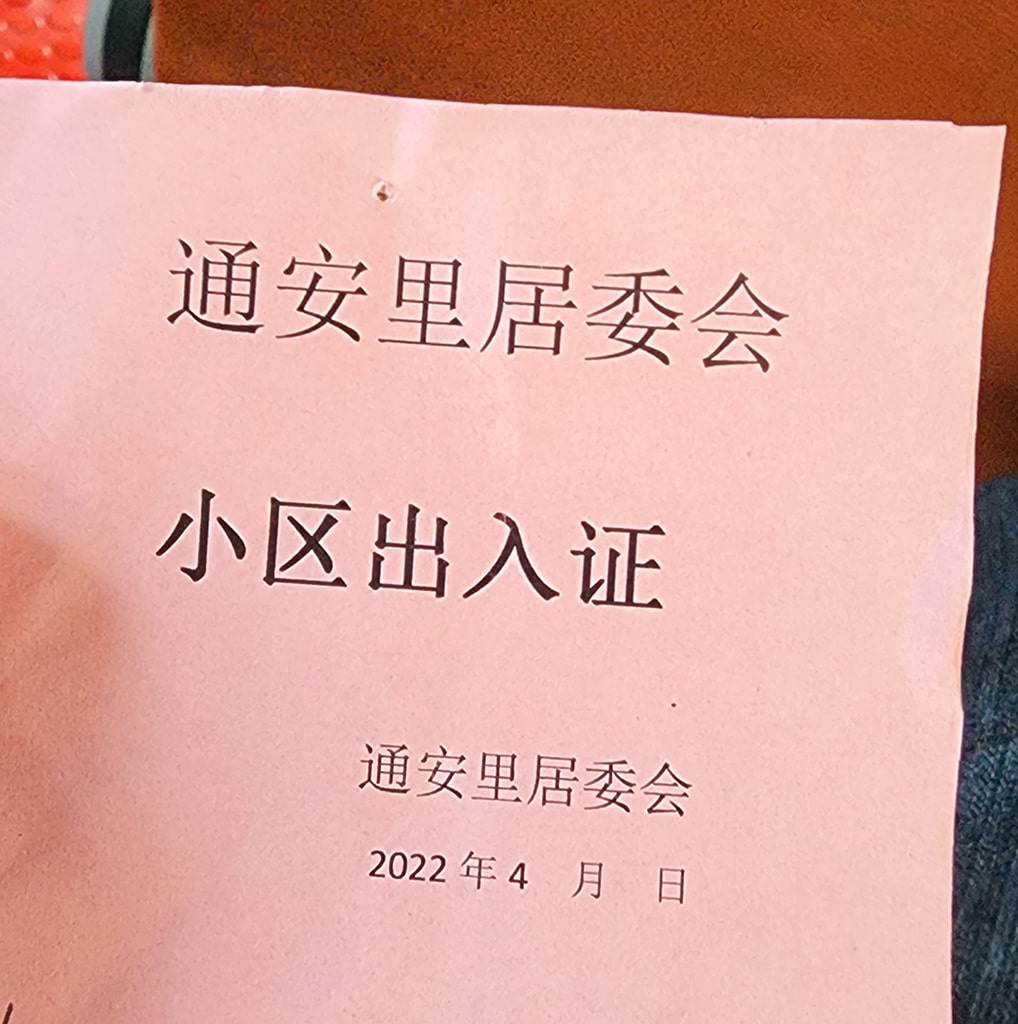 I can't see my driver's car and call him over the phone, then I see someone waving at me in a big bus parked on the opposite side of the road. I go up to him and show him my phone and he confirms he's my driver and that I actually booked a 40 seats bus for myself to go PCR testing. Apparently, its regulations to keep social distance lol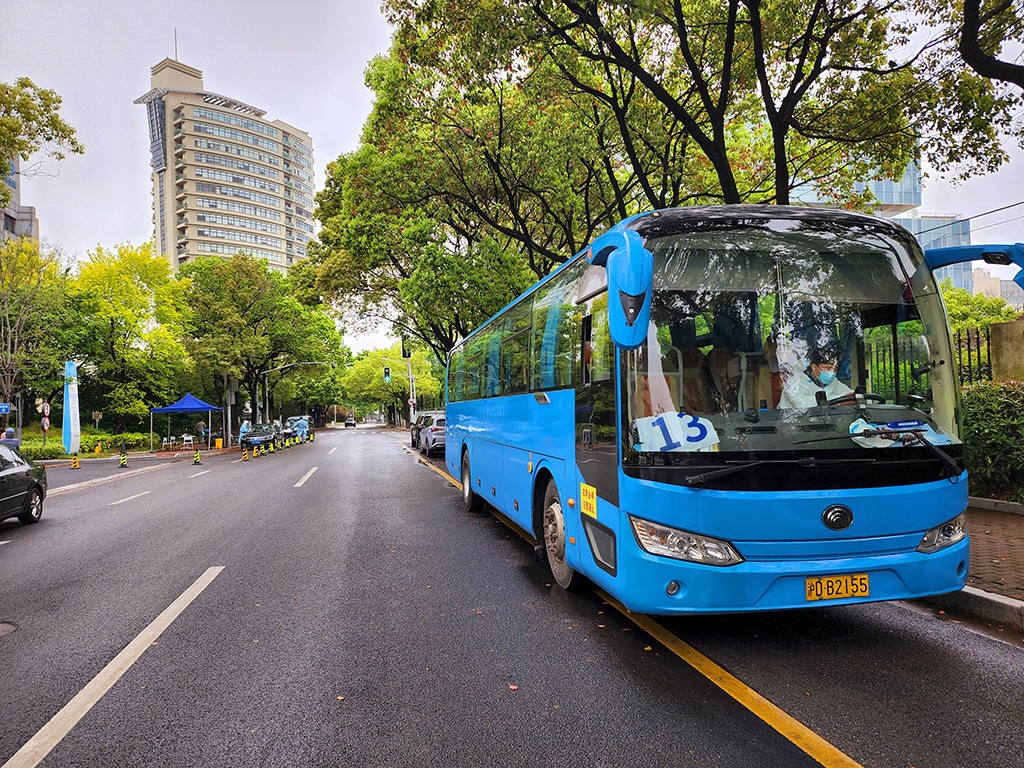 After 10km we arrive at the hospital, The PCR tests aren't done at the main entrance, you have to walk on the left when facing the main entrance then when you reach a cross road you turn right and get a small side entrance there towards the PCR testing zone.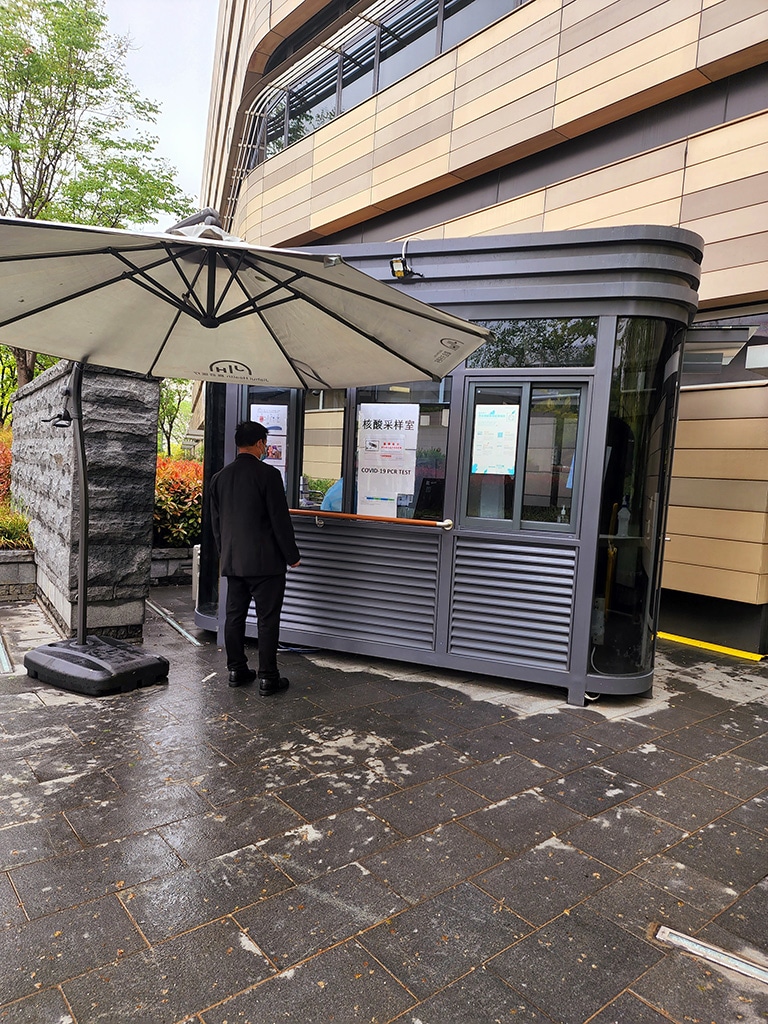 There you have to show the QRCode from the hospital app that states your health status, then in the app you have to « check in » for your PCR test to generate another QR Code that will allow them to print 3 labels to put on your tube and in a tracking file. Then you get in line do a double PCR (throat + 1 nostril).
From there I take my bus back home. When I arrived, I walked towards the entrance and another guard than the one who had let me out saw me and said fearfully « what are you doing outside we don't have the right to… » I took out the pink paper out and the guard relaxed with a big smile and told me « ah ok no worries » without asking me why I was out, just reassured by the fact that I had the right to do it.
To prepare the ground for the next day I ask him if he will give me a new pink paper tomorrow and he tells me he doesn't know about it and I tell him ok no worries I guess the neighborhood community will inform you tomorrow.
Step 3: chauffeur driving me to pudong airport
The driver 15000902270 that I had booked for 900 RMB the day before to go to Jiahui to do my PCR could not take me to Pudong airport (you need a special credentials to go from puxi to pudong that they don't have)… But he could take me to Hongqiao airport for 900 RMB and from there I would have had to take the shuttle (bus) between hongqiao and pudong. I saw foreigners opting for this option and doing just fine but having 90kgs in my 3 luggage and 2 bags, I opted for the direct transport from home to PVG airport.
For a direct Pudong airport car there are several numbers of private drivers that are available. Many options I could find on groups usually started at 2000 RMB and could go up to 6000 for some.
I sent a message to 4 of them, one replied 4000 if booked the day before (6000 if booked the same day wtf), another 2000, one tells me not available… So I booked the one at 2000 RMB and paid him 500 RMB deposit after a few hours to get the driver's info. Later on, another driver told me he could do it for 300 RMB, I figured I'd book him as a backup plan.
The next day, it is time to leave, I go to the door of the compound, they solemnly give me the pink paper, we exchange a few words on the fact that I'm going back to France to see my parents, I tell them « see you soon » and wish them good luck for the future concluding with the usual Jia you! and there they answer me in unison Jia you!
I go out, and a green Dazhong cab model electric station wagon awaits me at the door. I called the 2000 RMB driver whom was parked further away in a Japanese space wagon car and told him I was set already but was willing to compensate him. His boss called me back when I was crossing the Pudong bridge and we agreed the 500 RMB deposit was a fair price for them.
The checkpoint at Lupu bridge checked the driver's ability to cross the river along with his test. Then checked my test, I only showed the antigen self-test result and they didn't ask for my PCR.
Contact for the 300RMB driver (give him 500 he'll be super happy).
tel 18512178821 (add him on wechat with that number) he is the one who ended up driving me all the way from Jing'an through Pudong Lupu bridge checkpoint to Pudong airport.
Contact for the 2000RMB driver (reliable too since he came and while more expensive than the above option, he's less expensive than others).
tel: 15266899778 wechat: bubugao527
Most expensive one that I didn't try myself as he quoted 4k price was wechat safecar-om
Step 4: Arrival at the airport
At the airport, to enter we have to scan the QR code with Alipay to let them update the green code with this location and to display the green code to the security of the airport.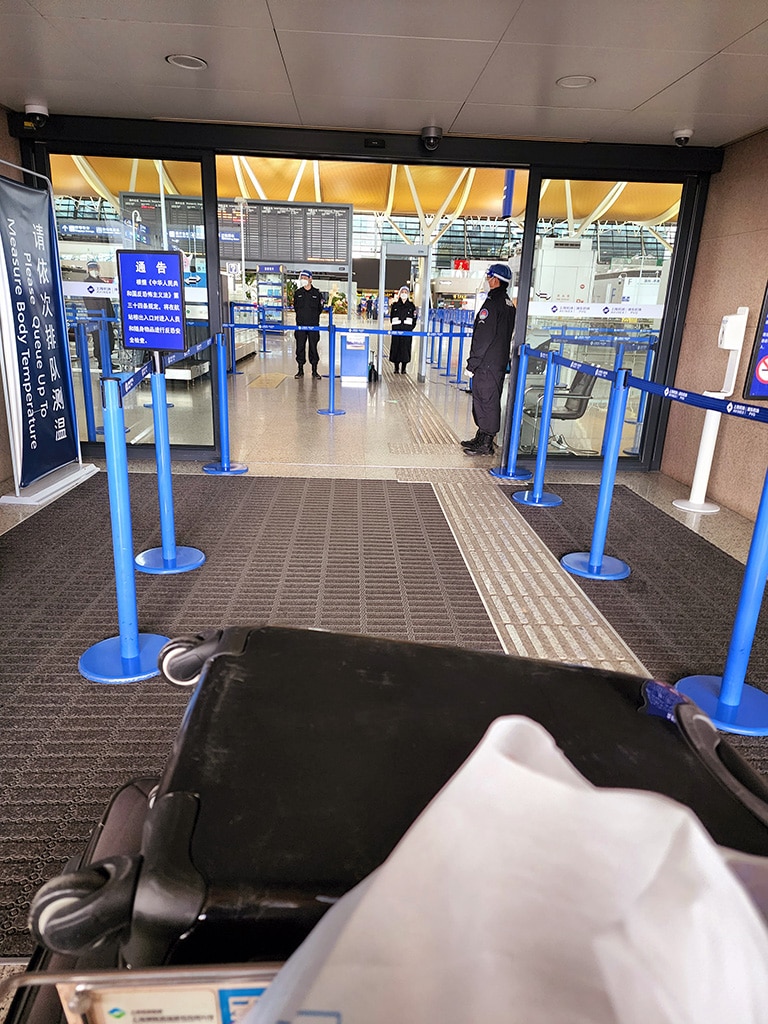 At the check-in there is a girl who checks that we have all the required papers such as the English PCR test. She did it scrupulously with the guy before me but when it was my turn and I said « Business class » she let me pass without checking. Instruction or just confusion who knows… in any case it's better to have everything just in case.
My 26kg suitcase goes through, my 41kg suitcase gets the guy to call for support if they could allow such a heavy luggage… I try to argue that I have the right to 2x32kg=64k and that I'm only at 67kg. He says Paris won't be happy if they let such a heavy baggage go through and that I have to remove stuff and carry the rest as hand luggage. Knowing that I already had my carry-on bag of 18kg, my computer bag of 10kg I didn't want to carry 3 tons of stuff, I tell him in chinese "how about I give you face and remove stuff but you also give me face and let me get away only removing 4 or 5 kg"? He laughed and agreed and I used a big carry bag I had put in my big suit cased in case of such an event…
Step 5: Declaration of departure & health status
Before going through the custom, you have to scan a QR code to install a wechat program to make a health declaration.
The form appeared in French on my phone and one of the questions asks if there has been a positive case in our community in the past 14 days? since it is said that any lie will be sanctioned, I felt hesitant but ended up saying the truth and clicking YES… As a result the QRCode generated by this mini program turned RED…
The guy who manages the scan of the QR Code asks me before scanning it if I did not answer yes to the famous question? I told him I did because a guy was tested positive in another building the night before. He then tells me that I have to go back and answer no (and should only say yes if the case was positive in my building in which case I wouldn't be allowed to leave). We made the change together by reediting the form and my QR code turned orange and I could go after scanning it in their machine.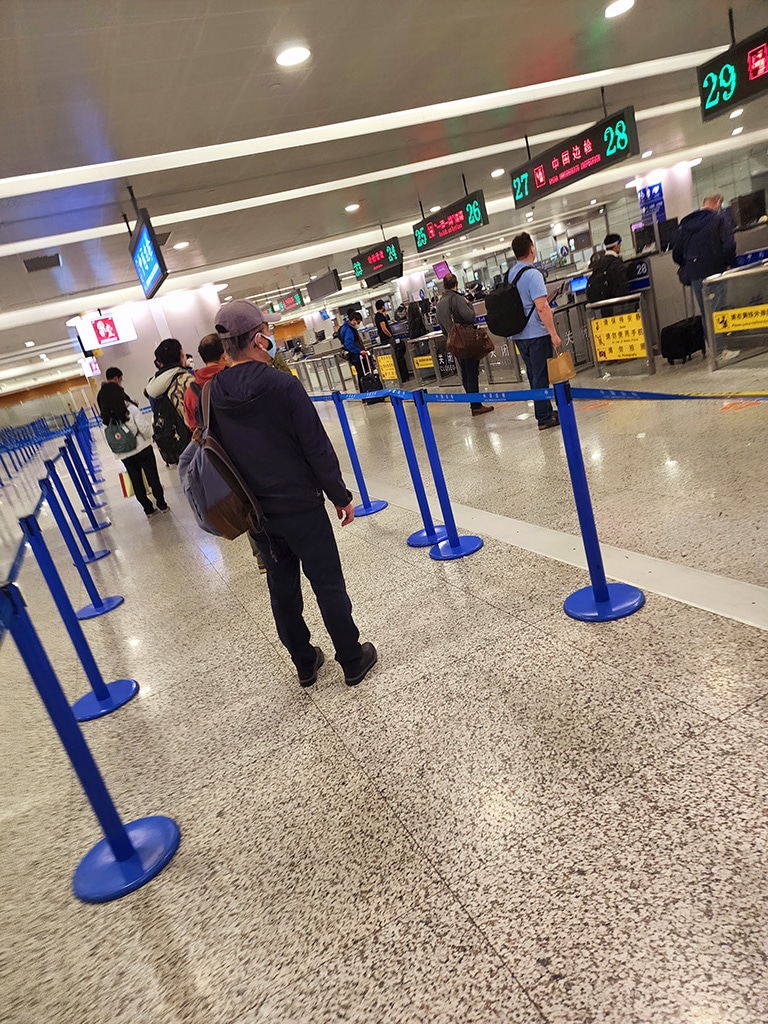 Step 6: Waiting for the flight
Not only stores were closed, but the business lounge was also closed!? And all the nearby vending machines were empty, but when I spotted people walking with bottles, I ended up finding a vending machine that still had stock 150m from our embarking door at the back of the terminal. I recommend you should take an empty bottle just in case no vending machines.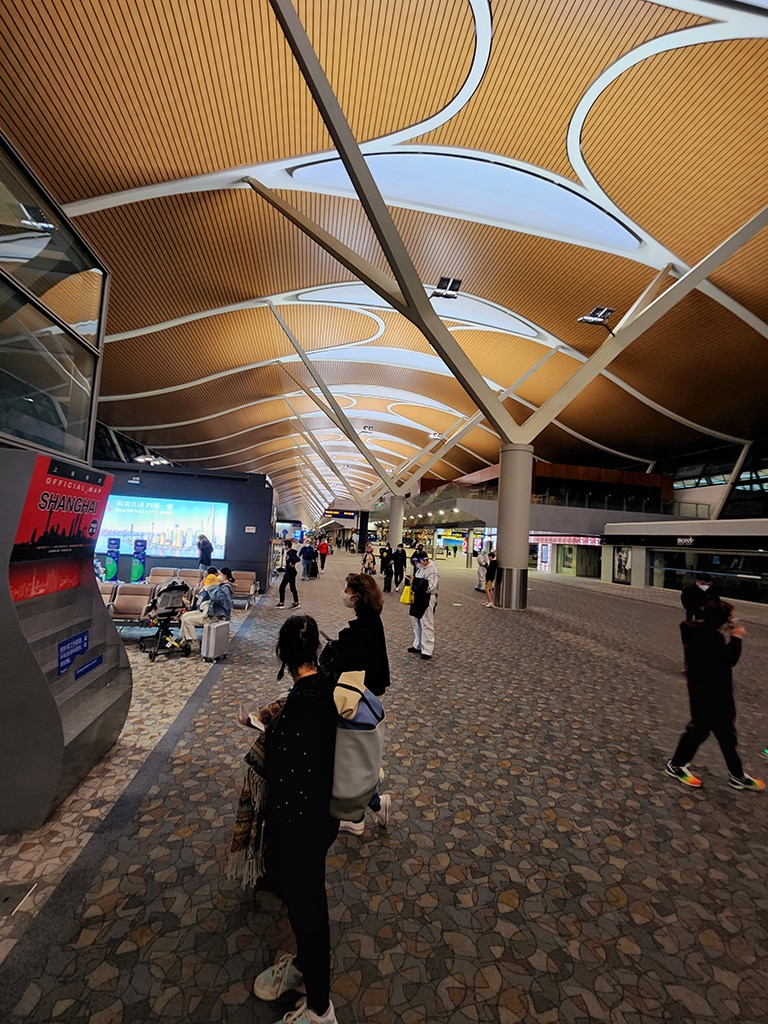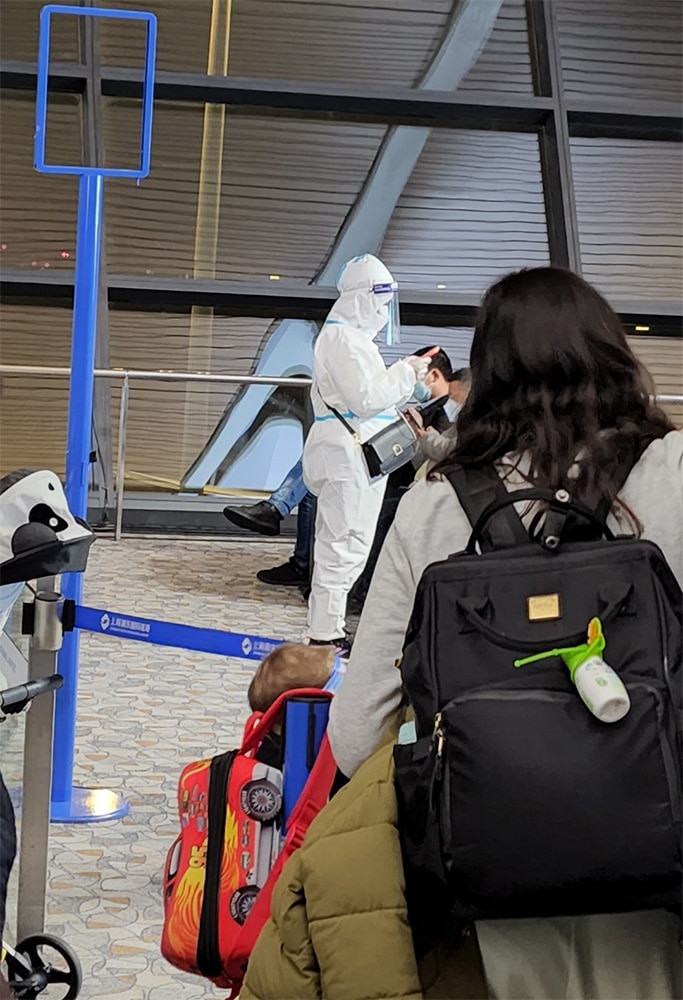 Our flight didn't get canceled and it was a relief to leave. Flight was 17 hours due to a change of personnel in Seoul and a flying route which was changed to skip Ukraine or Russia.
I'm more of a China Eastern fan than Air France usually but I was so happy to make it that everything felt perfect.
Was nice to have a glass of Chardonay before departing.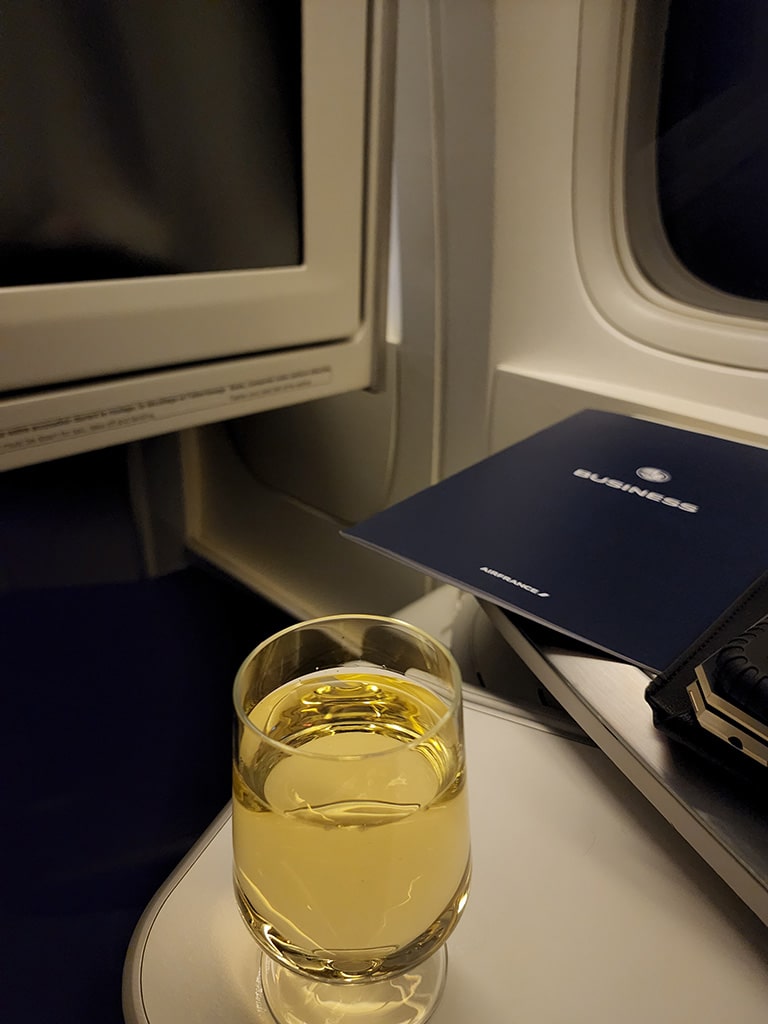 Arriving in Paris and seeing the Eifel tower felt like a good start for a new day 🙂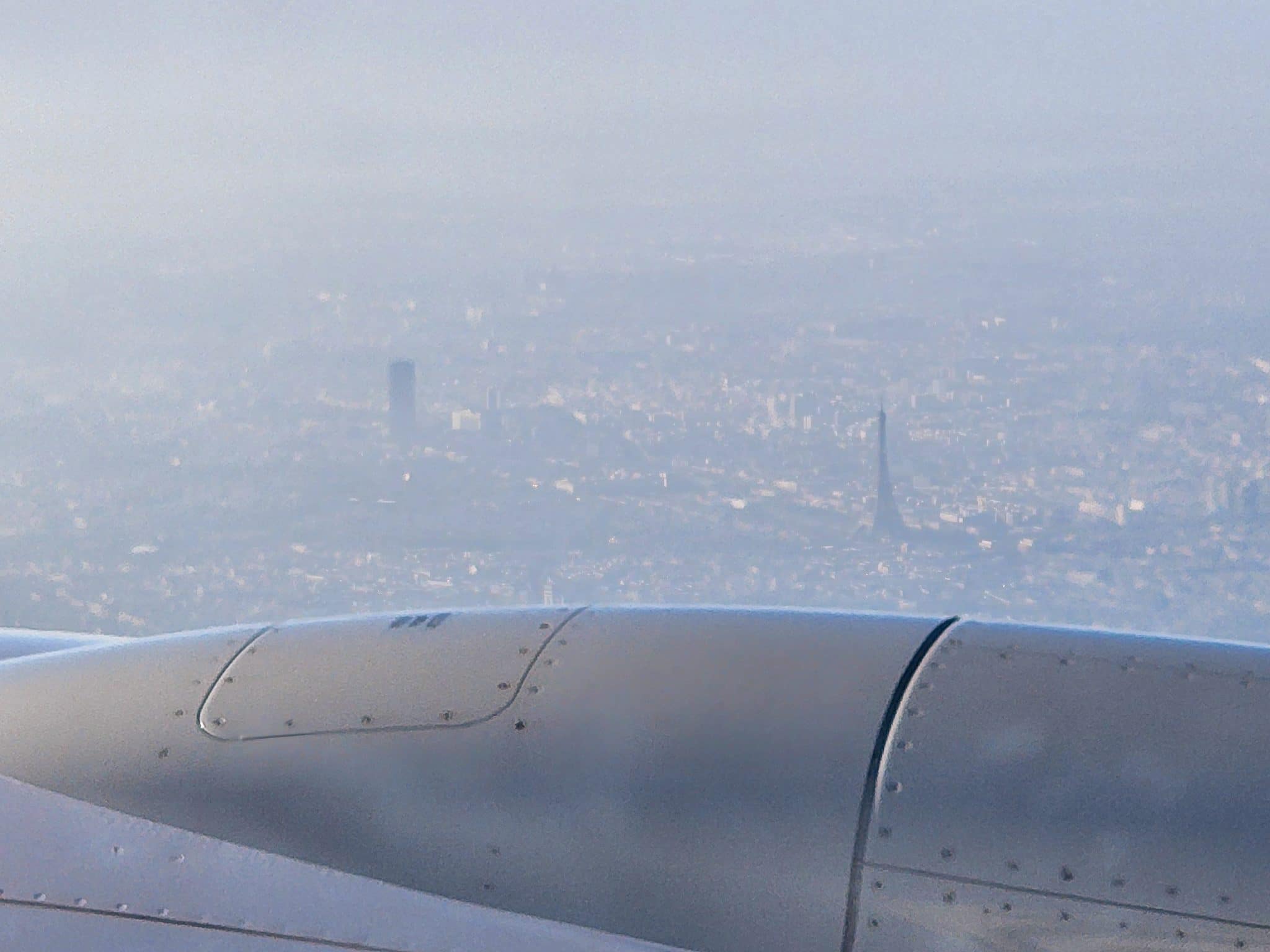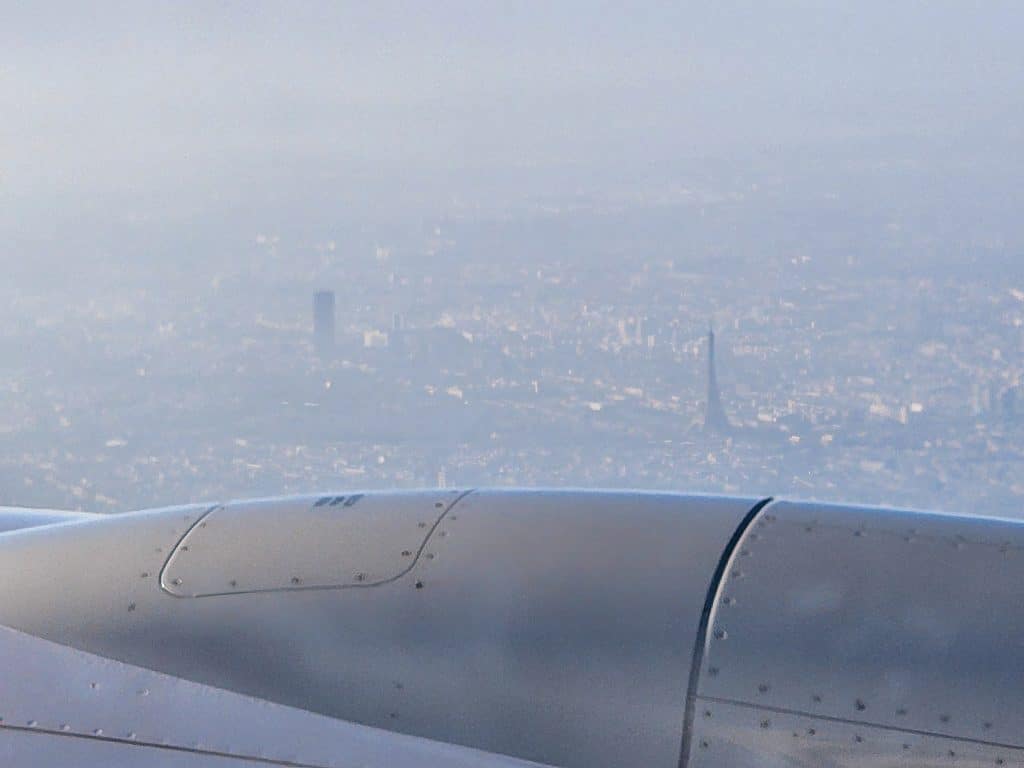 The afternoon I added a Pfizer shot to my arm to get my 4rth dose (3 sinopharm) and a covid pass in 1 week (might be useful after french elections).
And after 5 hours driving, I joined our family home in a south west of France village populated by 107 people. Coming from a 25 million people city and a compound which had hundreds of people living there it is a big change of life but enjoying the green space after 2 weeks quarantine is really great and eating beef tomahawks on the BBQ feels like the best thing in life 😉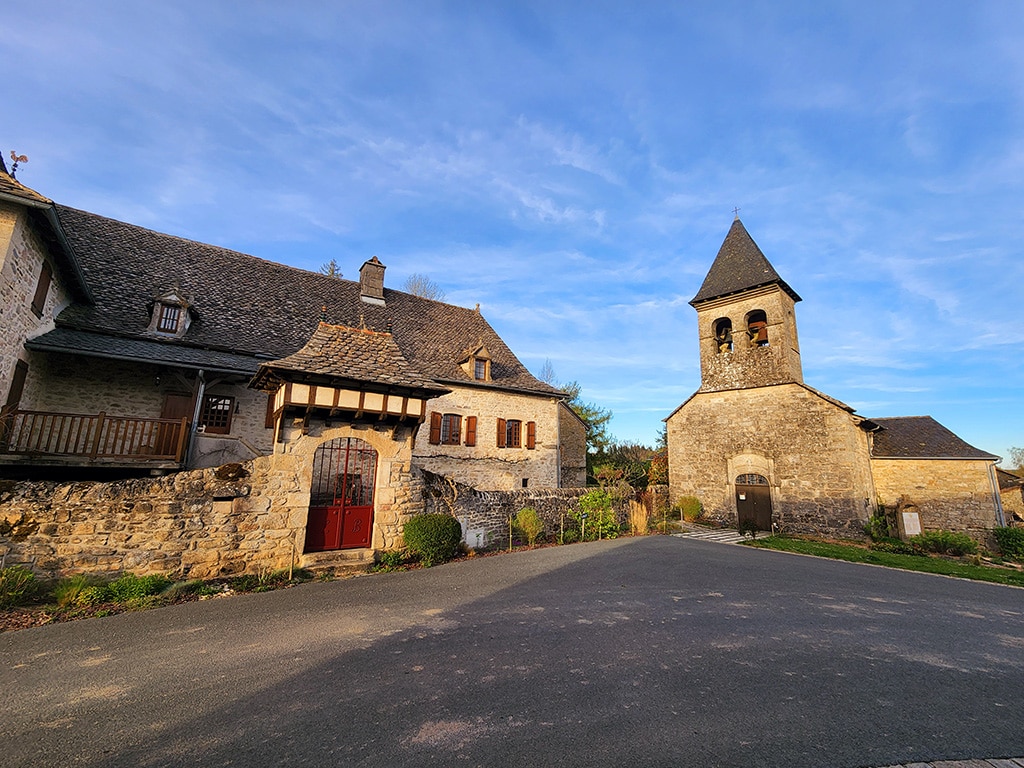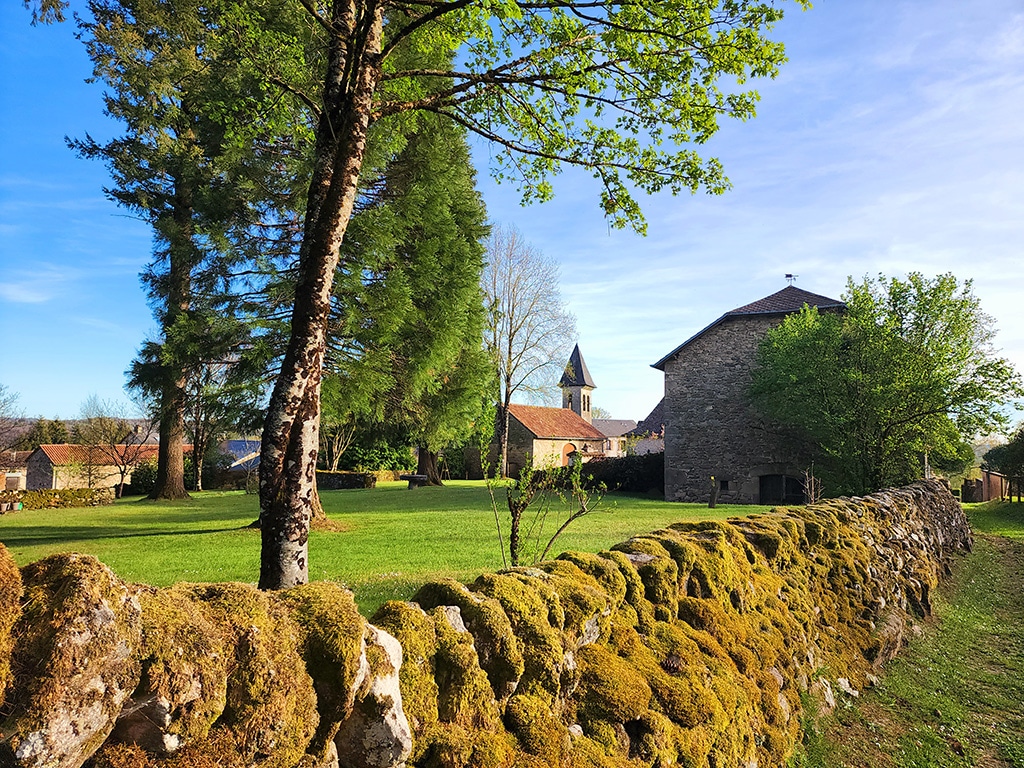 Good luck everyone, those trying to leave just like those whom decided to stay. I hope I can come back in a few months too.